Here's what just a few customers are saying about us
Love the oil can finishing

I had my tp mills custom putter restored about 3 to 5 years ago its still like new as I do look after it I spoke to Peter today as friends of mine love the oil can finishing and would highly recommend Peter's workmanship to anyone for refurbishment fantastic work. thank you Peter for your time.

Couldn't believe how good it looks

just received my putter back today, I couldn't believe how good it looks. Beautiful black finish, new black shaft and terrific new black grip. Couldn't be happier with it. I can't wait to take it to the course.

Never fails to impress me

This is the second time I have used PJ Putters and they never fail to impress me with their advice and workmanship. Highly recommend, plus the new PJPutter head cover is better than the original Scotty one in my opinion. Thanks again 👍

Restored to a level I thought was impossible

Peter restored my Scotty Pro Platinum Plus Newport 2 to a level I thought was impossible.
To say I am thrilled is an understatement! This man is a genius at what he does. Diolch yn fawr iawn Peter.

Would highly recommend to anyone

Great service and workmanship and would highly recommend to anyone. My Scotty was in a bad way and now is like new. Just rang Peter and he explained what the process was, gave me a price and everything was as smooth as he said. Thanks

I'm thrilled

I've now had 6 putters refurbished by Peter, the latest 3, Scotty Cameron Newport 2 TeI3, Scotty Cameron Santa Fe TeI3 and Scotty Cameron Red X2 CS have just returned and I'm thrilled, the putters are simply stunning.
If you're thinking about a refurb give Peter a call, he'll advise you what would be the best process or finish to go with and rest assured you won't be disappointed.
Thanks Peter, I'll be in touch with another soon.

Restored my faith in humanity

The service I have had from Peter and his team has restored my faith in humanity. So often we are let down in life with promises of how good things will be etc..etc..
Let me tell you this. You will not find a better job and value for money anywhere. Trust me.
Thanks again team
20 out of 10
Above and beyond awesome
Brilliant, sheer class

I can't say how happy I am

Had my red x refurbed. Can't say how happy I am with it. Unbelievable job. And so helpful throughout the process making changes. Recommended to my friends who are all also getting their putters booked in.

Nothing short of genius

Peter's knowledge and eye for detail is nothing short of genius, a true gentleman that loves his chosen field....
professional courteous and above all else
Honest ....
A pleasure to meet know and do business with... thank you

Unbelievable job

Had my red x refurbed. Can't say how happy I am with it. Unbelievable job. And so helpful throughout the process making changes. Recommended to my friends who are all also getting theirs putters booked in.

Transformed by magicians

A badly dented and worn putter has been returned to me as good as new. The advice and turnaround time, all excellent. I specified it as a play club and not a 'show cabinet' back to original finish treatment, though I'm sure they can do that.
To play with it's an improvement on the original finish.
Peter does a great job...quite remarkable in fact.
Reasonable price and great service.
Worth it just to see the transformation...magicians indeed.

Wonderful workmanship

Absolutely delighted to be reunited with my restored Scotty Cameron today and looking as good as new. Wonderful workmanship

Excellent

I am absolutely made up with my Scotty restoration. PJ Putters have made a fantastic job of what was an old tired putter. Excellent.

Fantastic

Great quality workmanship, very helpful and came back like new.
Fantastic.

Knowledgeable

Knowledgeable and so helpful! Brilliant service!

Absolutely stunning

Sent my Scotty Cameron Newport 2 Special Edition for a refurbishment, wanted it back to as bought condition, can't fault the work, putter has come back as good as new, absolutely stunning.
Will use PJ Putters again, quality work.
Thank you

Better now than if brand new

My 10-month-old TaylorMade mini spider required a new paint job as most of the original colour seems to have fallen off.
I called and spoke to Peter who suggested that satin black was the way forward.
I received my putter today after a long wait due to the pandemic. The putter is absolutely stunning and looks way better now than if brand new. I can highly recommend PJ Putters the workmanship is second to none and I'll definitely be using them again.

Fits perfectly flush, feels amazing

Great service, my detour insert fits perfectly flush with the face, feels amazing. The silver finish looks great a perfect factory finish, look forward to receiving my white hot back as well would highly recommend to anyone!

Look no further

Just had my Scotty Cameron putter back and was extremely pleased with the quality job that Peter has done. The service and results were second to none. I've already recommended the Putterroom to friends. To cap it off was a lovely touch that Peter put a branded head cover in.
If youre in need of a putter restoration look no further...
Many thanks Peter...

It's better than ever

Peter has brought my favourite Putter back to life. It's an Odyssey Big T and the aluminium mesh face had come away - a common fault. Peter replaced this with an aluminium mill-faced insert and now it's better than ever! He is a true gentleman and a genius! What he doesn't know about putters really isn't worth knowing. Thank you Peter - I will be recommending you to all my golf buddies.

His work is second to none

Peter is a top bloke have had 2 putters of him now Would definitely recommend to anybody that reads this his work is second to none.

Superb

It was a pleasure to deal with Pete and the workmanship and detail on my customised putter is superb

Fantastic service

Fantastic service, a brilliant repair and some good advice for maintaining the quality of my trusty Odyssey putter. Thank you very much

A real 10 out of 10

A true master my putter is a work of art, I am so glad I have another putter for peter to restore.
First-class a real 10 out of 10

Exceeded my expectations

Absolutely delighted with the workmanship. Exceeded my expectations, and the advice provided on the phone prior to the renovation was spot on.

I'll always use Peter

Having had my scotty studio 2 fully restored (head, shaft, grip) I sent Peter three putters, my Piretti CWII, Ping Anser 2 and Ben Sayers Benny! All came back immaculate and I couldn't be happier. The benny now hangs on my wall, the ping gifted to my nephew and the Piretti will be put in play. The finish is perfect and durable, paint fills tasteful and the supply of genuine manufacturer grips etc finishes the job. I'll always use Peter and recommend happily to all.

Putter looks amazing

I had a Scotty Cameron Newport 2 Teryllium custom made in PRO platinum finish with some personalized stamping on the bumpers and toe.
The putter looks amazing and I will for sure have additional work done in the future.
Many thanks! Klas!

Can't believe the quality

Can't believe the quality of the refurb. What an excellent job, can't praise it highly enough.

What a joy!

My putter is back in the best condition.
I am one of the "refusee" from Scotty Cameron.
it did not stop PJ to restore my putter in perfect conditions.
Peter's services are really so professional.
He guided me towards the best solution for me.
And the services were fast and efficient.
This is THE place for Putter restoration.
Thank you again!

Amazing transformation

Thank you for doing a spectacular job on my Scotty Cameron putter and for super service and communication throughout the process.
The putter arrived well packaged, with a new head cover (unexpected) and looking like new; amazing transformation!
I've showed it to a few friends and they couldn't believe the quality of the job you've done.
Thank you again.

True craftsman

Visited Peter at his workshop and I was like a kid in a candy store. If you like Scotty Cameron putters don't go because you will want to buy everything. Great experience with a true craftsman.
Thanks Peter

From beyond repair to better than when I bought it

My Scotty Cameron was beyond repair, (or so I thought). My putter has arrived back today. It looks better than when I bought it.
Great turnaround time and would definitely return
Thanks guys

Can't thank him enough

if you have a putter that you cherish then don't send it anywhere else so pleased with the results after I sent my putter away to a place in Rochdale who wrecked my putter by painting it with cerakote Peter did a fantastic job can't thank him enough.

Tremendous

I cannot thank peter enough, the overall service I received was fabulous and the finish on the putter is tremendous, cheers once again peter

I can't recommend Peter highly enough

This was my first experience of having a putter modified and refurbished and I can't recommend Peter highly enough.
- communication and advice are first class
- prices are sensible
- work carried out far quicker than I had anticipated
... and most importantly the quality of the craftsmanship is absolutely outstanding.
Overall a fabulous experience AAA+
I can't imagine why anyone would go anywhere else!

Each time the work is faultless

Thank you to Peter for restoring my Newport and TEl3 back to their former glory. Peter has restored five putters for me now and each time the work is faultless!

​I admire his first class work

A wonderful service carried out by a very helpful, genuine and pleasant man. I was provided excellent advice about a putter I had purchased on E-Bay of all places, which I took to the Putter Room for refurbishment. On inspection it was discovered that the putter (Ping Zing) had worn out securing screws and were difficult to remove but on doing so, the whole thing fell apart. This led me to seek a refund. Peter, the owner of the Putter Room is a splendid person and I certainly recommend him and admire his first class work.

Awesome and love it

Absolutely love my Scotty Detour Newport 2 modification. The feel of the new Terrylium insert is awesome and love it! Will be sending another to Pete to remod!!!!!
Email

Transformed it totally

My putter was a bashed but well loved Wilson 8813 which served me well when I was quite a lot younger!
It had sat in my garage for close to 20 years since it was last used and although a great putter it was too far gone to bring out on to the course in front of my playing partners.
Peter took it from me for not much more than a week and transformed it totally.
I now have a beautifully milled putter, satin black with perfectly drilled line up dot in white, brand new shaft and cabretta leather stitched grip. It is an absolute work of art and putts beautifully.
Oh and he also added 40g to bring it in line with modern putters.
Thank you for such a great job Peter - I not only have a great summer putter but also something to hang on the wall in the winter.....it's that good...

​A simply majestic putter

I sent my old rusty Scotty Cameron AOP Oilcan to Pete and could not be happier with what returned. The details on the refinished head are sublime and the re-milled face is incredible. The workmanship is of the highest standard and the result is a simply majestic putter that looks as good (if not better) than new!
To top it all off Pete is a knowledgeable, helpful, thoroughly nice guy. I would definitely recommend him and his work highly!

A true craftsman

I recently purchased a Scotty Cameron Teryllium from PJ putters. The putter was a Santa Fe finished in satin black. This finish is better than the original- I am made up with my purchase and Peter was very helpful and a true craftsman. Thank you!

Returned in mint condition. Amazing.

I was best man for a mate and decided to have my Scotty Santa Fe refurbed as a wedding present for him. It was the best feeling putter in my collection but was battered and well worn. Peter returned it ahead of schedule in mint condition and for less than first quoted, amazing!!
I can't recommend his services highly enough and what a gent to boot.

Extremely grateful

My dead, rusted, scratched, flat faced putter was restored good as new. You'd never know how bad it was.
Extremely grateful, thank you!

Highly recommend

I could not be happier with Peter's restoration work. He took my trusty, rusty Titleist SP-203 and turned it into a work of art. AND, he's a nice guy. Highly recommend. Thanks again, Peter.

Multiple jobs completed very well

Peter is very helpful and happy to take any requests on board - very happy with the work completed
I have currently had : Scotty Futura X Dual Balance, Scotty Santa Fe 2 Te3 , Scotty Studio Design. All completed very well . Thank you once again.

No hesitation in recommending you

I couldn't believe that the shiny, smooth beautiful putter that came back from the putter room was the same rusty, neglected and sorry looking item that I sent off. It now looks like brand new and I am so looking forward to the new season. Thank you Peter and staff, I will have no hesitation in recommending you to my golfing friends.

Greatly exceeded my expectations

Sent in my rusty Scotty Cameron Newport 2, and it was returned back to me pristine. Greatly exceeded my expectations, could not be more happier with it.
Thanks for the work Pete.

A cherished item

Purchased a custom SC Newport 2.5 finished in honey gold and translucent green… personalised hand stamp on the face RORY... for my new born son. Fantastic craftsmanship and a great pleasure to deal with a cherished item I'll never let go, thanks again Peter for you great work…

His workmanship is outstanding

Peter is a very nice and helpful person who could not do enough to help. The quality of his workmanship is outstanding.
If you love your putter, and want it restored to the highest level do not look any further.
Thank you Peter!
★ ★ ★ ★ ★

Nothing but total confidence

Really superb experience and dealing with such a knowledgeable person gives nothing but total confidence.
This is rewarded with the completed work.
I really cannot recommend Peter enough.
for Scotty Cameron in the UK, this has to be the best place to come!

A stunning piece of work

After a cheap powder coat elsewhere I wanted my studio 2 fully restored and Peter was the man for the job. I now have the putter that got me to scratch fully restored to its original glory and it is a stunning piece of work. No nicks in the head to be seen and the finish is unbelievable. Thanks!!!

A work of art

Hi my name is Paul Keane. Peter refurbished my Scotty Cameron to a high standard that he turned something dull into a work of art a truly stunning putter thank you. I will be back and will recommend all to use his excellent craftsmanship

An extremely professional service

Peter milled off a top alignment line and machined a new one on the flange. He then painstakingly replaced the lost weight to maintain the exact feel and swing weight. An extremely professional service. I highly recommend PJ Putters.
P.S. If you are a Scotty nut and plan to visit Peter, bring your wallet; he's got some awesome putters for sale.

Quite simply a masterpiece

Immensely happy with the work carried out on my putter. It's quite simply a masterpiece. I was dubious about leaving my putter with someone that I had never met. However after talking and meeting with Peter he put my mind at rest instantly.
Cannot recommend him highly enough, needless to say, I'll be using Peter's services here on in considering no one else.
The mans a genius.
The level of service is immense as well.
Thank you Peter.

It's better than having a brand new one

After finding Peter on a web search I had been looking at his work and contemplating buying a Scotty. Peter invited me down to have a look at his stock and I walked away with a Newport oil can with a a couple of tweaks.
I am thrilled with the outcome as Peter added a different grip and shaft I am now very comfortable with the feel of my "new" putter, its better than having a brand new one.
I've never seen so many putters in different conditions or various stages of assembly! It was like being a kid in a candy shop. Peter kindly took the time to show me some of his work and I will be ordering a fully custom one again in the coming weeks. If you are looking to buy a Scotty then look no further than PJ Putters.

You won't be disappointed

I took the time to visit Peter . We sat and chatted for 20 minutes and he made some suggestions for my Scotty Grand Bolero. We decided on satin black, a complete change from the original. The completed putter is really a work of art and returned to its former glory, if not better. I would recommend anyone to use Peter and, if you are local, drop you putter off, you won't be disappointed.

Putter was amazing. So pleased.

1 went down to Peter today to pick up my putters. I already have seen the quality of his work.so it was no surprise to see the workmanship he has done on mine.my custom TP Mills limited addition putter was amazing. Oil can finish. Black shaft to finish. I think Peter is miles in front of anybody I know in this field anybody reading this will find out themselves when they have their putter refurbished from there. thank you Peter for your time and your help.so pleased. Thanks

Brilliant. Brilliant.

I cannot believe how good a restoration was done on my 18 year old Scotty Cameron Newport 2. Came back to me in as new condition. Communication regarding works and what can and can't be done was brilliant. It was returned to me quicker than estimated which was brilliant. Would definitely recommend again.

The knowledge he has is fantastic

The first time I met Peter today. What an experience. the knowledge he has is fantastic. I have seen some putters today the workmanship is so good. I have left my TP mills for him to refurbish. Knowing it is in safe hands. to do a great job thanks for your time and help today Peter. See you when I come down in a few weeks.

Putter looks brand new

Very pleased, 20-year-old tatty putter made to look brand new

Excellent and high-quality

the service was excellent and the end product was high quality, "they bought my scotty back to life" very happy overall and live in Ireland so it was an overseas project for them..... Would recommend to my golf buddies for sure.

"Best in UK"

Very, very professional as the advert says 'best in UK'

Better than the original

The putter came back better than the original. I couldn't believe how good it was. Thought it couldn't be restored as so rusty but unbelievable now. Cannot wait to get out on the course and impress my golfing buddies. Brilliant job and would recommend my friends without hesitation. Many thanks Peter.

Fantastic restoration. Brilliant.

Fantastic restoration of my old Scotty Cameron Santa Fe. The pictures on the website look great, but my putter arrived back looking amazing. I cant believe how good it looks - and with my initials stamped on the face. Brilliant.
I was tempted to just buy a new SC - but this is even better for a fraction of the price. Thanks !

Wouldn't hesitate to use him again

Pete refinished my Scotty Cameron Napa putter and it looks amazing, he kept in touch with me and sent me pictures throughout the entire process. I highly recommend using The Putter Room for any putter restoration needs and wouldn't hesitate to use him again!!!

Looks incredible

Fantastic job .... Roll back the years to my new putter.
Expertly restored, looks incredible..... Defo pass on details to my golfing buddies - Thanks Pete.

Fantastic work, looks awesome

Fantastic work, putter looks awesome.
very friendly and helpful staff.
Got a great new head cover too.

No hesitation in recommending

The outer layer of the putter head on my Scotty Cameron Red X was peeling off in places and bubbling on the face. After Titleist told me the issue was not their problem (!!) I sent it Peter after finding him on a web search. Before doing any work Peter called me and very helpfully discussed what would be the best option in my case. The result is like having a brand new putter and I am thrilled with the outcome. Peter has also added some weight in the sole and a different grip and I am now very comfortable with the feel of my "new" putter.
I picked it up in person when I was in the area and made to feel more than welcome. Peter's services are obviously in demand - I've never seen so many putters in different conditions or various stages of assembly! He kindly took the time to show me some of his projects.
I have no hesitation in recommending Peter's services.

Fantastic job

Well after getting my Scotty back from a so-called friend I thought it was ruined, rusty, bent shaft, bent neck you wouldn't think it was a Scotty until these guys got their hands on it, can't thank them enough for the fantastic job they did,
Cheers Peter

Magnificent

Very friendly and professional service
The refurb is magnificent
Do not hesitate to use this company

Outstanding work

I can't believe it's my old putter outstanding work, looks like new.
Thank you Peter, I would recommend to any golfer who has a worn out putter that they cherish and would like it back as when they first bought it.

Unbelievable

Having originally sent my Scotty Cameron Santa Fe to America to be repaired only for it to return with a rejection letter.
After much Internet research and a little hesitance I contacted Peter and agreed on a price and service for a total restoration including paint fill, copper insert, new shaft and grip only to find that he had added a headcover too!!
The price and contact from Peter was excellent, the restoration? Unbelievable I cannot believe this is the same putter?
I will be recommending PJ putters to my friends and family and already on a look out for my next restoration project.
I've wanted this putter since I was young teenager and on my 32nd birthday it arrived and now I'm finally a proud owner of a Scotty Cameron Santa Fe!
Thanks again

Phenomenal job

Phenomenal job. Everything I wanted and more at a very reasonable price! I can't express enough how much I love the work Peter has done on my Scotty Cameron. Peter's communication skills were excellent and he followed through on all my wishes and gave me advice when it was necessary, he made my experience a fun one. I've already recommended Peter's work to my friends. And if the opportunity arises I will use PJ Putters again.

Get it done – you won't regret it

I thought long and hard before deciding to send my "Treasured & Vintage SCOTTY CAMERON TeI3 'Long-neck' Newport" away for a refurb.
I needn't have worried !!
I've just got it back and it is ABSOLUTELY STUNNING !!
As it says somewhere on the website it is "better than new' !!
Don't deliberate for another second - "GET IT DONE" !!
You will not regret it !
We are on Trustpilot
We have recently added our business to Trustpilot so you can check out our impartial reviews there.
We want to hear from you!
We would really like to hear about your experience. So please leave a review and we may place it here.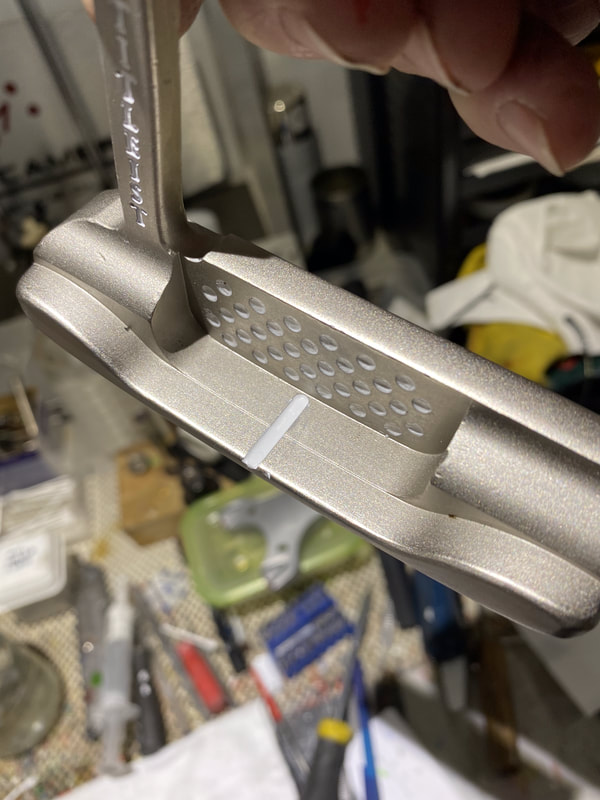 Here is a selection of eBay reviews
Superb service all round, trust your Scotty refurb here, absolutely wicked, top man

Fantastic service! 100% trust in peter's service

Exactly as described, Fast delivery would highly recommend

Great ebayer use again best one i have had done yet customs Scotty Cameron refurb service). Great Job! Thanks A+++++++++

Great ebayer, top communication, very helpful and superb refurb job!!

Absolutely superb service, progress pictures throughout process. Like new!
Good communication. .prompt service.. a trusted ebayer 5stars

The work on the putter was phenomenal, turned a beat up Scotty Hollywood to brand new. Peter has fantastic skills.
Peter putter just arrived through the door! Never been as happy with a golf club in my life! Absolutely fantastic job! Will definitely be using you again! Thank you for all your work and help! Really is top top quality gear! Take a lot of pride in the fact that I've seen several of these done and have turned out looking really cheap! you have a great talent! Thanks for your help! A**** for your work!!! Gob bless! 🙂

28/01/2014 – Top quality service and the best I've seen at this! Putter has turned out immaculate and will definitely be using Peter again! Great service, great quality and great price.

Sent in 2 Scotty Cameron Santa Fe Ti3 and 1 Studio Design #5 for restoration. They came back better than new. The Studio Design in white. I will use your service again.
Thanks.

Had bought putters previously but this was my first refurbishment job. Very impressed. Got the usual excellent service and advice. Refurb job is seriously good. Definitely breathes new life into an old putter. Thank you again.

I was worried about sending my favourite club to someone I found on the web, but all my fears were ungrounded.
Service and communication levels were excellent and of course my putter looks like new but importantly it "feels" just as it did before.
I would recommend Peter and his skills to anyone
Excellent service, Scotty as good as new, would definitely recommend.
Many thanks, Peter.

Absolutely brilliant excellent work excellent communication can't thank peter enough my rusted Santa fe is back to brand new I would highly recommend peter to anybody wanting to restore there putter thanks again peter

I had a Titleist Scotty Cameron for my 50th birthday ( 15 years ago) but it always got rusty and dis-coloured especially when wet as it got older. I found Peter and the Putter Room on the web and sent it off a few weeks ago after an email exchange. Straight away he acknowledged its receipt and sent me few photos of the progress he was making with it. He phoned me to say it was finished and I got it back today - it's a work of art - looks fabulous and I will be immediately sending my Whitlam putter down for the same treatment.

Peter was very helpful, ad kept me posted at all stages of refurb.
I was a little dubious of sending a Scotty to someone i never knew, Peter is a genuine restorer and would recommend him to anyone.
Peter done a great job of restoring a battered and bruised Scotty Newport 2, not only restoration, but new shaft, customized grip and weighted.
If you are contemplating a new Scotty think again, i have my own putter restored to new for half the price.
Thanks again Peter

Peter took a very poor conditioned scotty Santa Fe teryllium and restored it to a magnificent standard that I didn't think was possible, will be sending my Newport teryllium shortly!!

Hi Peter,
Just wanted to thank you for the tremendous work you have done on putter for my husband Stuart, he is 100% delighted and the kind inclusion of the head cover has really made his day.

Truly a master craftsman, is this really the same putter. Worth every penny and a personal service which has long been lost by others. No hesitation in recommending P J Putters to any of my friends.

I am a avid scotty fan like Pete and have amassed quite a collection his passion for putters and his quality of work is overwhelming would highly recommend to any collector

I had two scotty Cameron putters of the oil gun finish variety and both had been rejected by Scotty Cameron for refurbishment
I cannot stress just how good a gob Peter did on both putters
they look absolutely amazing now
having been in a state that may led you to believe I had been poking the fire with them
GREAT JOB

I recently had my Newport 2.5 Scotty Cameron refurbished and regripped by Pete and PJ Putters. The putter looks great now and feels lovely. It has breathed new life into my putter. I would definitely use Pete again, I may even try and pick up a good cheap old Scotty on Ebay and get it refurbed: it would cheaper than a new one and just as great. Cheers Pete

I am absolutely thrilled.... I sent Peter my 15 year old Santa Fe which I hadn't used because it was corroded etc.
After hearing of PJ Putters from a friend in Portugal I agreed to the full works, a matt black finish, new grip, actually 2 for another SC I have as well, and a new head cover.
I have just received it back. Honestly it's better now than when it was new. I cannot recommend Peter enough, absolutely fantastic!!!!

So pleased with the refurb of my scotty American Classic v11 limited edition(Napa) was hoping for it turn out well but never expected the quality of finish unbelievably good and would recommend this service to anybody looking to bring there putter back to its original condition or better many thanks to Peter for great communication and advice

What a great job! Peter was great and made my putter look like new again! The same quality that you would expect from sending to the USA, but a more personal, faster and better value for money experience! Highly recommended! Thanks again

The service provided by this company is top notch. I had a standard studio style Cameron converted to have a button back style look with a copper face and I can say the job done was better than I could ever could imagined! Have several putter projects in the works for the wonderful guys at the putter room!!

Just like to thank you for the wonderful service you have provided. Superb communication of what you could do for my putter.
Result is absolutely fantastic.
Look forward to using your excellent services again and I will not hesitate in recommending you to my golf buddies.
Nice personal touch with the head cover too.
Thanks again

Excellent service off peter,
he kept me informed with e mails
& pictures all through the process,
A real pro at his job,
highly recommended.

Absolutely A1 top, top quality faultless thank you.

My Scotty Cameron come back absolutely first class really pleased with it superb job thanks peter, highly recommend having your putter refurbished.

WOW!!! Peter, you are a magician. I can't believe it's the same putter. It's like new!!! I can't recommend this service enough.

I sent TPR two putters to be refurbished, both were usable but lacked the appeal a Scotty Cameron putter should give you. Now that they have been returned to me I'm going to struggle to pick which one I play with. From the new grips right through to the superb finish on the heads, the putters look amazing. All this and a couple of classy head covers thrown in, what's not to love?

Absolutely amazing workmanship, you can certainly trust your putter to return perfect as was mine

There will be golfers out there who have a cherished Scotty or similar thinking, i'd love to have this refurbished, but not sure if I should send it to some little outfit in East Sussex. Let me tell you I have just received back my Scotty Cameron JAT limited edition which I asked Peter and his team to refurb to my spec. To send it to Scotty would have cost £300+ post and packaging. Peter has done the job for less than £100.00 p&p and the result is outstanding. I cannot give enough praise, it's a no brainer use peter and his team, as I will again in the future. (And NO I'm not related).

I just received my oil can finish Scotty Cameron Newport putter back from Peter and it is probably even better looking than when my wife bought it new for me as a gift. I had tried my best to look after the finish and oiled it regularly but despite my efforts the putter was corroded and had lost its mojo!
The work Peter did is top level craftsmanship indeed and I am more than pleased with the end result. Thank you so much.

Received my scotty long neck back yesterday and must say what a brilliant result . Excellent service , keeping me up to date and would highly recommend . Many thanks

Just had my putter returned today wow what a great job they did wouldn't think it was same putter I sent away some weeks ago absolutely amazing job well worth it can't wait to start using it.would recommend using this service to anyone wanting to have their putter re done great job pj putters thanks again

Thank you Peter for the excellent work in refurbishing my 2 Scottys both in Tour Black non rust finish.
Peter is extremely knowledgeable on Scotty's and supply's pics as the work progresses.
Excellent professional service and communication.
I will be sending my next project very soon.
Highly recommended

Excellent work and service from Peter. my trusty Scotty is as good as new with some personal adjustments also. Thank you Peter and I have already recommended you!

I sent my pretty my rusty and battered Scotty Cameron Newport Two TeI3 Teryllium Putter that looked like it was fit for only the bin to Peter for restoration. After 3 weeks TLC it has come back like new. Amazing results and truly delighted with the work, would recommend this service to anyone!
Please leave a review
If you've received our service, please leave a review of your own and we may add it to this page.